As young girl, Anne-Claude greatly enjoyed the company of her grandmother Mammaya. They would watch old films together on the television and play dress-up according to what was en vogue in those black and white films. She became so enamored with the elegance of the past, that 12-year-old Annie even wrote fan letters to the likes of Katherine Hepburn, James Stewart, Lana Turner, Ava Gardner, Olivia de Havilland, and Brigitte Bardot (some of whom did reply).
As a result, Annie grew into quite an old soul when it came to style and sensibilities, and she fell in love especially with certain accessories that were signs of the time.
Fast-forward to 2004, Annie would marry her Ecuadorian sweetheart⁠—this detail later playing a role of significance in her life and business direction.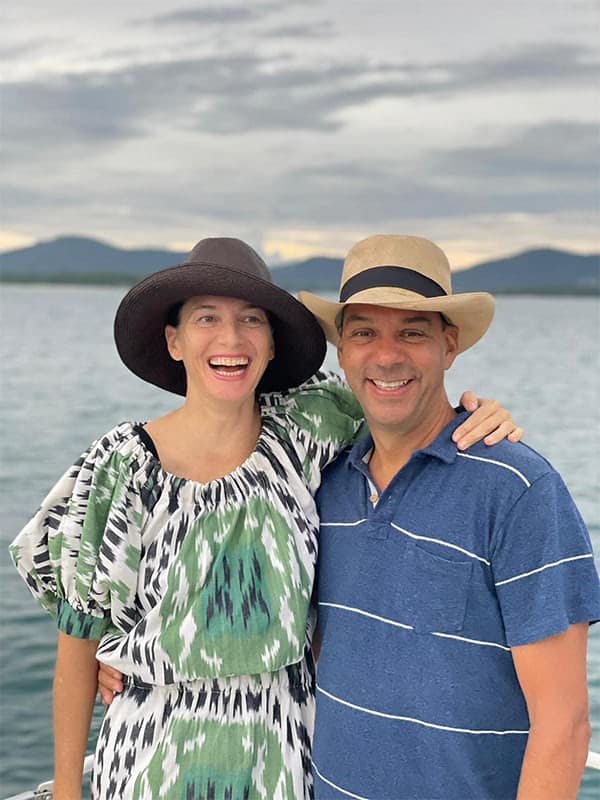 In 2006, Annie and her husband relocated their base from Geneva to Hua Hin in Thailand, where she entered into the hospitality sector. She worked as the retail director of Thailand's premier wellness resort, Chiva-Som, until 2012. After that, Annie shifted into retail consultancy for major luxury hotels in Thailand, including Kamalaya Koh Samui, Hyatt Regency Hua Hin, and Rosewood Phuket. For each hotel's boutique, she would identify the retail opportunities, develop and source the product ranges, and ultimately turn their profitability.
For one of her clients, Annie's attention to customer needs and her drive to deliver led to the quadrupling of the boutique's revenue in just one year.
It was during this period that Annie, as a long-time fan of hats, realized that it was difficult to find quality hats in Thailand. "There wasn't really a place around where you could go and look for good hats." This sparked an idea to start sourcing hats, one that would meet the standards of the hotel's affluent guests. And it is here that we transport ourselves to Ecuador, the origin of the misnamed Panama hat.
Annie and her husband packed their suitcases, flew to Quito, rented a car, and began the journey to learning more about the legendary hat. They eventually found themselves in villages in the provinces of Azuay and Manabi, which were famous for their weavers and weaving materials. Observing the process of making Panama hats, Annie got the first peek into the complexity of the hats—how many different designs, styles, and grades there are, as well as the differences in the materials. They brought back 50 Panamas to Thailand in their luggages to trial with the hotel clientele. Many showed interest right away.
In 2013, it finally came time for Annie to officially launch her brand, MonPanama ("mon" meaning "my" in French), an accessories label centered on authentic and sustainable craftsmanship. At the heart of the brand is, of course, Annie's beloved Panama hats, though she sells other accessories too, such as handwoven bags and other travel companions. In 2018, Anne started working on opening a showroom and investing in an online platform for her brand, having previously relied on a business of creating private labels for luxury clients and word-of-mouth essentially.
Then the pandemic hit. MonPanama's ultimate success during the pandemic came again from Annie's keen awareness of customer needs. She made some changes, for example, listing her prices in Thai baht and also finding a balance between decreased but still fair prices.
She also did a lot of listening and adapting. "During this time, I tried to gather as much feedback from my customers as possible. For instance, a customer who had purchased one of my bags asked me whether it was possible to simply switch out the strap for one of a different color. Speaking to my customers directly made me realize how important having different colors and sizes are."
Besides listening, Annie believes in having no fixed routine and process. Though this can appear to be chaotic and time-consuming, it ultimately honors her creatively. "Sometimes I start from a beautiful piece of fabric; other times I start with a design." Wherever she is in the process though, there's always one thing for certain: she's thinking about sustainability and the artisans behind the creations. Whether it's to do with the material being used, the durability or functionality of the design, or the execution itself, Annie makes sure that her creations are built to last for her customers. That's why production can take anywhere from 6-12 months. She also doesn't plan on launching collections at arbitrary intervals but rather launches new products in a more spontaneous and serendipitous fashion.
Today, Annie works out of her home-cum-showroom located in the heart of Bangkok. Overseeing pretty much everything at MonPanama, if you were to make an appointment at the showroom, she'll walk you through everything herself and attend to all your curiosities about her products. And if you were to ever doubt that hats are simply not your thing, Annie will reign you back into confidence, reminding you that there is no rule when it comes to making your statement.